EL JAGUAR DORADO ART & TEXTILE CRAFT STUDIO AND GIFT SHOP
Playa del Carmen, with it's trendy Fifth Avenue jam packed with galleries, shops, boutiques, restaurants, curiosity shops, bars and cafes, has more than enough shopping to please even the most discerning shopaholic; but nothing quite compares to the distinctively unique hand made, up-cycled, re-purposed and creative gifts, clothes, and and art that can be found in El Jaguar Dorado Art and Textile Craft Studio.
The store/studio is located on Calle 8 between 10 and 15. Not only is the store chock full of fabulous, interesting, unique and inspired items but the store's owner, Marina Rucco, graphic designer and textile designer is an absolute joy to be around.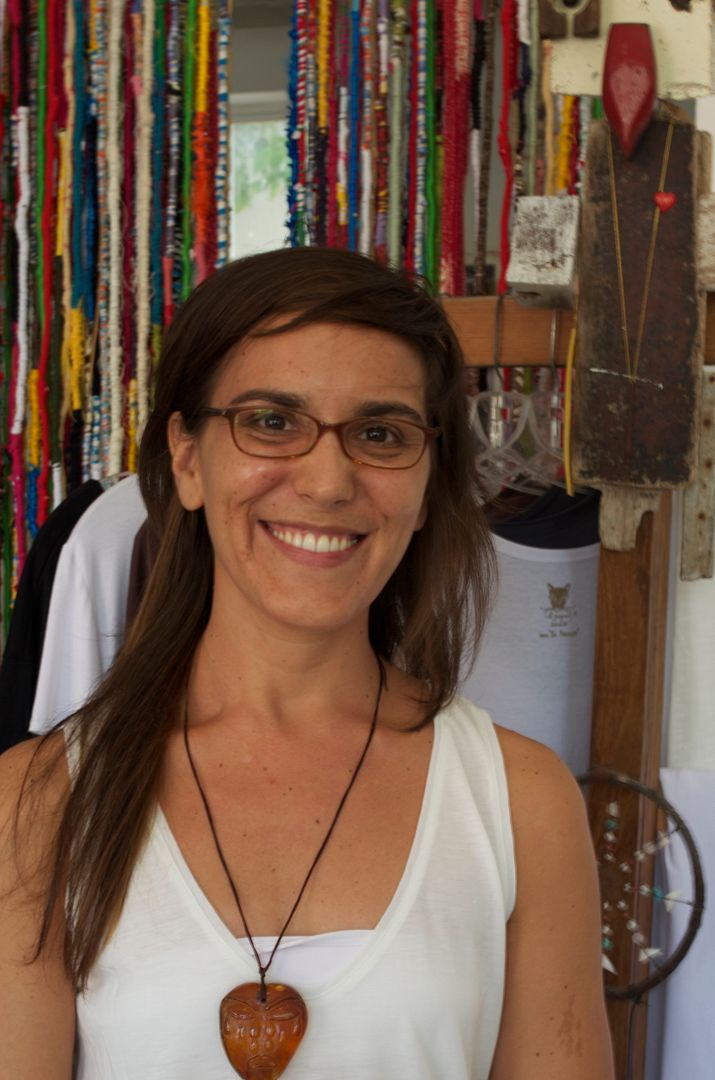 With her contagious smile, calm demeanor and the positive creative energy she exudes, it is no wonder that the big table at the back of her studio easily fills every evening and afternoon for various textile and craft project circles. She is one of those people that people want to be around.
Marina is originally from Argentina and has been in Playa del Carmen for the past 9 years. She worked as a graphic designer and came up with an idea for a line of t-shirts which she began to sell to various shops on the bustling Fifth Avenue. As her t-shirt business began to grow, she began to recycle the leftover and imperfect t-shirts and materials and turn them into their own respective pieces of art. She realized that she was on to something and began selling her up-cycled items which eventually led her to opening her own store and workshop. She found like minded people and friends to join her in this endeavor and now, like a mother she nurtures this space, combination store and workshop. It is clear in her every movement and her surroundings that this is a labor of love.
One of the small signs in the store reads "Embroidery is a silent language full of art, color lots of love, A culture that leaves its mark in souls coat, transmitted from generation to generation, We speak with threads, sing with threads, smile with threads, laugh with threads, cry between threads, we spin our stories, We want to tell you things with our hands."
The items manufactured and sold in her studio/ shop seem to have their own life, a certain intangible quality is present in every item.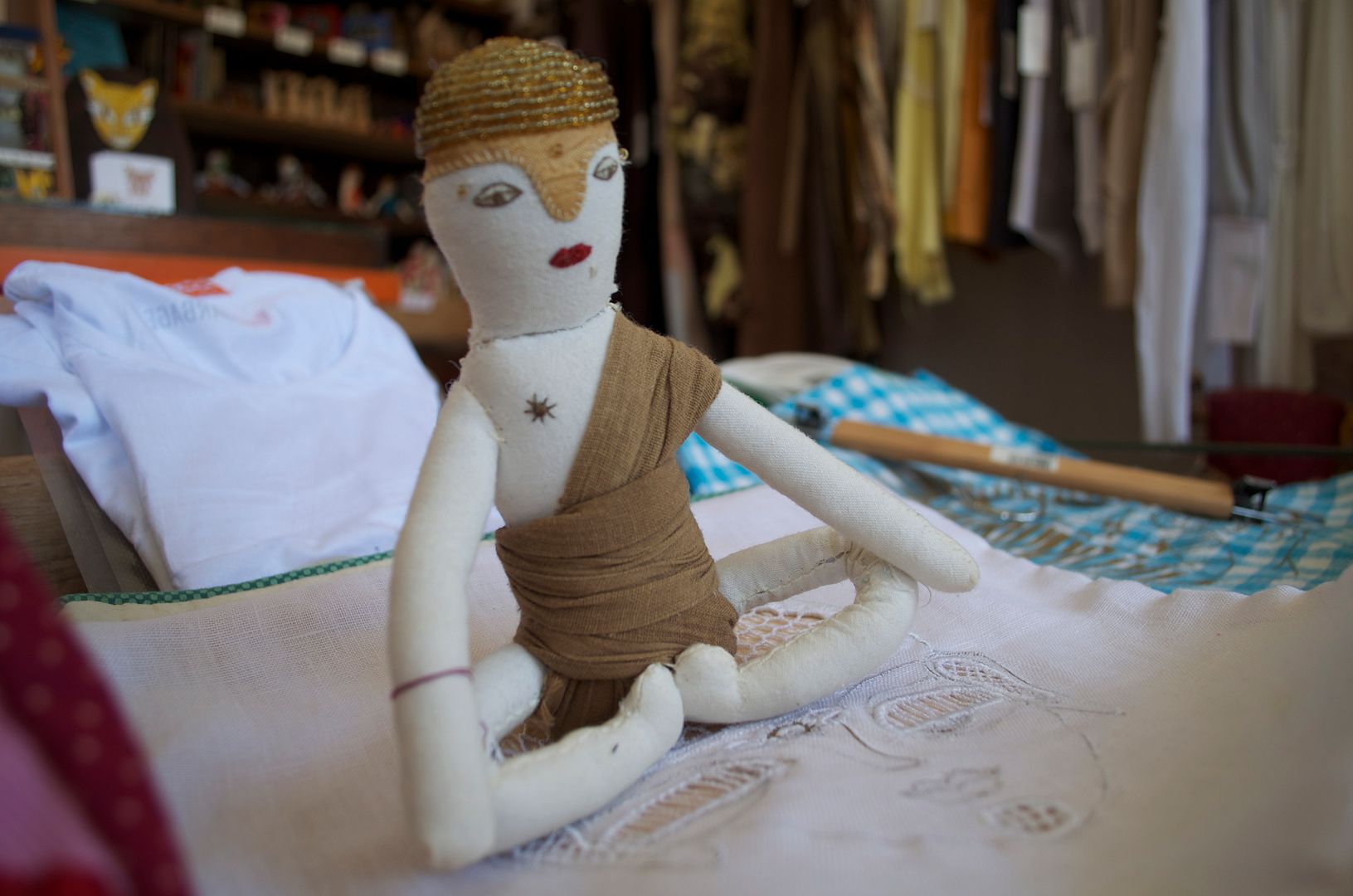 When I remarked about this unique aspect of her work she explained, "embroidery is like a type of meditation, for me I feel like when I am doing embroidery, I am meditating, I get sensations, I feel things and all of that is reflected in the piece I am working on. Whatever piece I am working on is a reflection of my being. Each piece is charged with energy from the thoughts and feelings of the person who is working on it. That is why each embroidered item in the store seems to have a light or vibe of it's own, it is charged with energy. That is what I love about each piece here, that it is hand made and reflects humanity, it is not perfect, it is beautifully done, high quality, yet handmade artisan feel that a factory manufactured piece cannot provide."
The store/ studio and the items for sale within, all seem to tell a story. I asked Marina to tell me about her style, the story behind her collection of beautiful items for sale. She went on to say, "I love the idea of fusion, fusing together different cultures. Playa del Carmen is a fusion of cultures, it is a fusion of the cultures that were here and all of the cultures we all bring with us when we come to live here." These beautiful items are fusions of cultures and interpretations of culture presented with grace and creativity.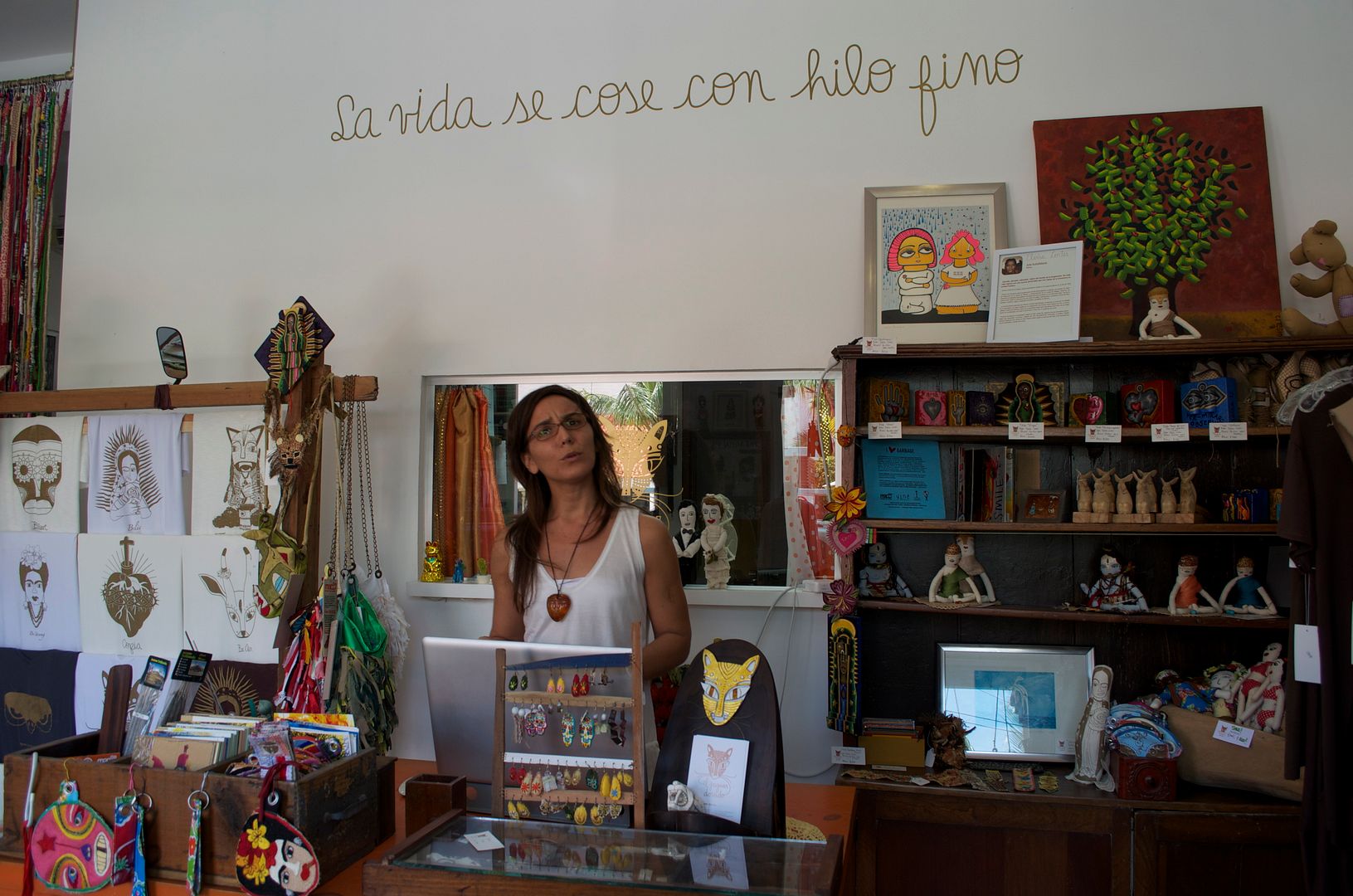 The textile studio is experimental. The joy for Marina and those who join her craft circles, attend events at her studio or join her around the large weathered wooden table in the back area of the shop, is in experimenting with different textures, fabrics, sewing, weaving, and constructions. She likens the studio space and experience to a science lab with cutting edge technology and the healthy curiosity of scientists that fans the creative spark. She likes to call the studio, the Textile Laboratory.
Marina is a trend setter and progressive thinker. She is always looking for new ideas and ways to use embroidery, knitting, textiles and other traditional handcraft techniques for new and contemporary applications. Always open to new non-traditional ways of expression, she has joined the yarn bombing cultural movement and has brought the new urban knitting and yarn graffiti culture to Playa del Carmen as well.
The light and love that fills her is evident in the tiniest details of her work. This meditating Shiva doll is finely embroidered and dressed, adorned with jewels and is even complete in it's traditional representation with a snake around it's neck. No detail has been overlooked. Even the meditation mat the Shiva sits on is quilted and finely done. This beautiful piece is one of the most thoughtful gifts I have ever had the pleasure to be surprised with!
Join Marina at El Jaguar Dorado for innovative workshops. Learn to express your creativity through textiles and recycled materials. For more information about classes and gatherings please visit the facebook page for El Jaguar Dorado.


A shopping trip to El Jaguar Dorado is sure to put a smile on your face! While you are there buy a gift for someone you love; put a smile on someone else's face also. A smile can travel around the world!